Blaupunkt Frankfurt RCM 82 DAB - MP3 car radio with Bluetooth / DAB / USB / SD / iPod / AUX-IN
Features
High-end CODEM IV world tuner FM, AM, DAB, DAB+ tuner with radio text / DLS, allusion functions (memory scan/ Tape scan)
USB (2x), microSD with MP2, MP3, WMA, FLAC, M4A (AAC), APE, WAV Support, front AUX, Apple iPod Support
Bluetooth telephony via international or external microphone
Audio streaming with title display
Audio Mix- option for mobile phone navigation
Access to voice assistants (e.g. Siri, Google, Alexa)
Wake-up on call
Twin- Connect
Phonebook access
Digital Signal Processing
2x 14-band equalizer Sound Presets
Loudness
4-channel preamp output + sub-out
4x 50 watts
Vario Colour (4096 colours)
2-line display
DIM function
Direct access to all audio sources
Persistent memory
Short installation depth
Blaupunkt Frankfurt RCM 82 DAB Car Radio
Radio Tuner
World tuner (switchable) EU (Australia), USA, South America, Thailand
Frequency bands: FM, AM, DAB, DAB+
Frequency band FM: 87.5 - 108 MHz
Frequency band AM/MW: 531 - 1602 / 530 - 1710 kHz
Number of stations 15x FM, 10x AM, 15x DAB
Radiotext
Travelstore / Memory Travelstore Yes/ 5x FMT, 5x AMT
Band Scan + Preset Scan FM / DAB Yes/ Yes
Sensitivity (FM) Two levels (lo/ dx)
Hi-Cut (FM) Yes (multi-stage switchable)
DAB-DAB Service following where available
DAB-FM Service following where available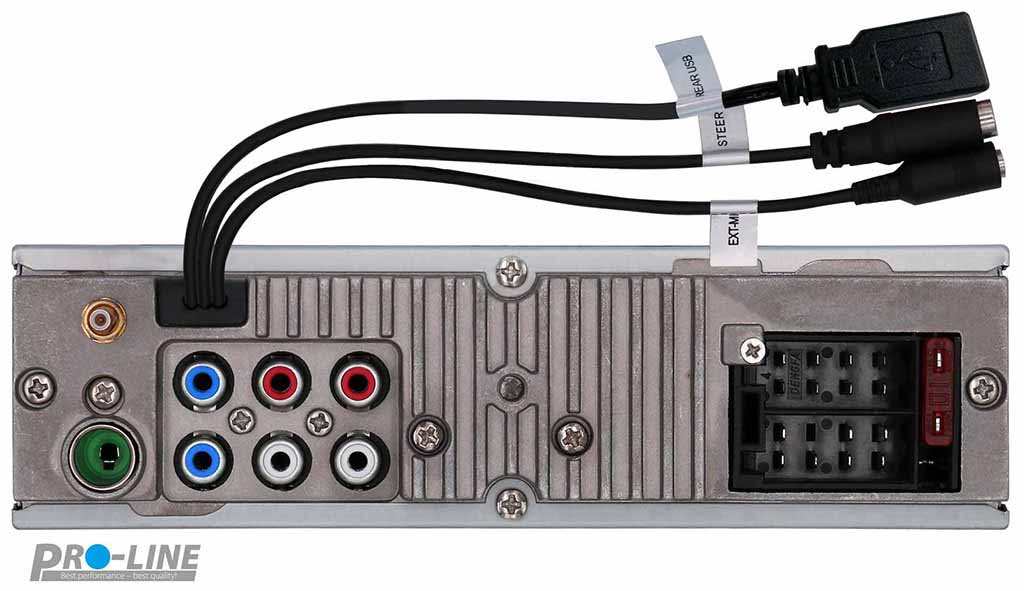 Blaupunkt Frankfurt RCM 82 DAB Car Radio Connections
Media Player
AUX Front Side: Yes (3.5mm jack)
AUX-IN automatic detection/activation Yes
USB front panel Yes (Type A, recessed socket)
USB Rear Panel: Yes (Type A, Cable)
Memory card reader Yes (microSD, microSDHC, microSDXC)
Concealed front inputs Yes (USB & microSD with the flap closed) usable)
Compatible formatting (USB, memory cards) FAT16, FAT32, exFAT
Maximum memory size (USB, memory cards) > 128 GB
Maximum number of files / folders (USB, memory cards) > 30,000
MP2, MP3, WMA, FLAC, M4A(AAC), APE, WAV formats
Display options ID3V2 (Title, Artist, Album), Folder, File, Season
Folder & File Browsing Yes
Scrolling Yes (one-time/repetitive)
iPod, iPhone control Yes (via USB front/ rear)
Shuffle Folder/ Media Yes/ Yes
Repetition Title/ Folder/ All Yes/ Yes/ Yes
Mix / Repeat / Scan yes / yes / yes


Blaupunkt Frankfurt Radio with flap up showing connections.
\

Blaupunkt Frankfurt RCM 82 DAB Car Radio Shown Installed
Bluetooth:
Making phone calls: Yes
Internal microphone Yes
Possibility of connecting external microphone Yes
Answer/Reject Call Yes/ Yes
Access Phonebook: Yes (max. 1000 numbers)
Audio Streaming Yes
Audio Streaming ID3 Track Display Yes (Title, Artist, Album, Playing Time)
Access to voice assistants
(e.g. Siri, Google, Alexa) Yes
Mobile Navigation Audio Mix Yes
Auto wake-up on call Yes (when radio off + ignition on)
Fast pairing without a PIN Yes
Automatic reconnection: Yes
Bluetooth Version 5.0 LE
Number of paired devices max. last 5
Number at the same time verb. Devices max. 2 (when Twin Connect is enabled)
Supported profiles A2DP, AVRCP, HFP, SPP
Audio Codecs aptX, AAC, SBC
Availability/support of the functions depend on the user phone/app used!
Sound:
Equaliser number of bands/ design/ quality filter 2x 14/ parametric/ 1.00- 2.00
Bass / treble adjustment Yes / yes (+/- 12 levels)
Source-specific bass / treble adjustment Yes
Balance/ Fader Yes/ Yes (+/- 12 levels)
HPF/ LPF Yes, separate for front/rear channels, variable
Loudness Yes
Sound Presets Yes, Rock, Pop, Classical
Speaker outputs (channels) 4
Preamp outputs (channels, voltage) 4 (RCA, < 4V)
Max. power 4 x 50 watts
Sinusoidal power at 14.4 V 4 x 24 watts (according to DIN 45324)
Sub-Out 2 (RCA, Gain/Frequency variable)
General:
Display LCD, negative, anti-reflective, wide-angle, 2-line, Alphanumeric/ Symbols
Illumination color Display/ buttons Vario Color, 4096 colors
Day/night mode: Yes (manual/via dimmer connection)
Brightness Multi-level, variable
Time display: Yes
Low standby current Yes (< 3.5 mA )
Antenna inputs FM DIN/ ISO, DAB SMB (with 12 V phantom power)
Ext. hands-free microphone jack
Permanent Memory Yes (Settings & Presets)
Weight: approx. 0.67 kg
Dimensions 50mm x 178mm x 116mm (H x W x D, housing only), 58mm x 186mm x 10mm (H x W x D, front without buttons), approx.
Operating voltage/ power consumption 10.5-14.4 V / < 10A in operation, ACC off < 3.5 mA
Included:
Unlocking tool
Connection cable (ISO A, B)
Antenna adapter (DIN / ISO)