Sub-8100 Compact Powered 8" Subwoofer - Retro Sound
The RetroSound SUB-8100 is a powerful but compact 8-inch amplified subwoofer system designed to fill in the low frequencies usually missing from your classic vehicle's sound system, or in fact virtually any car system. This compact subwoofer measures just 70mm tall, so it is ideal for installation beneath your seats or behind the seats of a pick-up. A built-in 100 watt Class D digital amplifier provides plenty of power, and the continuously variable crossover lets you fine tune your bass. A remote level control allows you to control your bass volume from your seats.
Features:
8 Inch powered subwoofer system
Built-in 100 watt Class D digital amplifier
Built-in variable crossover
Remote level control
Speaker level and RCA low-level inputs
Rugged cast enclosure
Small footprint for ease of installation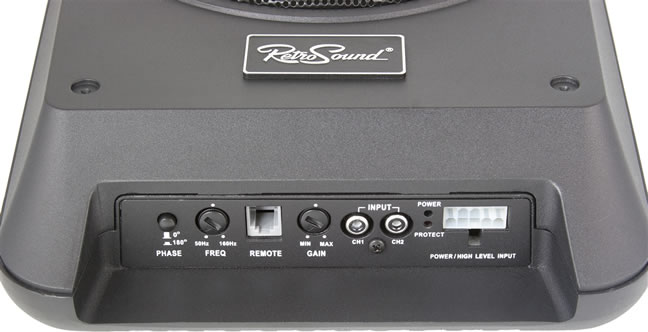 RetroSound SUB8100 connection panel.
Specifications:
Power Supply Voltage: 10.5 - 16.0 VDC
Idling Current (On): 0.4 A
Idling Current (Off): <0.002 mA
Output Power @ 14.4V: 100W RMS / 200W Max
S/N Ratio: > 100 dB
Input Sensitivity: 100mV - 6.0V
High / Low Level Inputs
Frequency Response: 35 Hz - 160 Hz
Total Harmonic Distortion: 0.1%
Low Pass Filter / Slope: 50 Hz - 160 Hz / 12dB / octave
Phase Control (variable): 0 / 180°
Fuse: 1x 10 Amp
Size (W x H x L): 9.2 x 2.75 x 13.74 inches / 350 x 70 x 235 mm (approx.)
Weight: 9 lbs / 4.1 kg (approx.)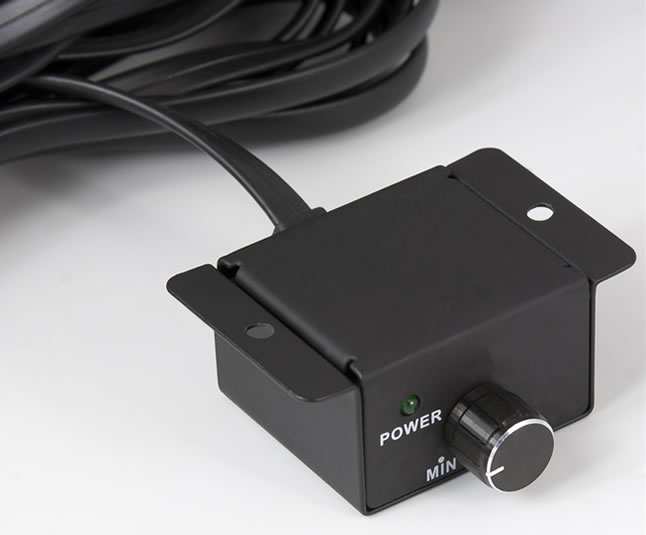 RetroSound SUB8100 remote level control.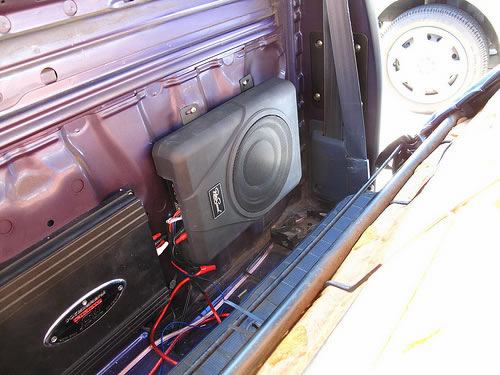 RetroSound SUB8100 installation example.