Audel CG 618 Bookshelf Speaker

Our Price: AU $2,995.00 inc. GST per pair (including stands) - Special Price


AU $2,722.73 export price per pair (including stands) - Special Price



Product Code: audel-cg618

This item is listed in the following categories:
Audel Art Speakers, Speakers Bookshelf, Audel
Shipping Calculator: add to cart to first!
Audel CG 618 Reference Loudspeaker
DESIGN AND AUDIO EXCELLENCE. For the CG 618, 18 litres are enough to deliver unrivalled feeling and a performance without compromises. The music stage is optimally reproduced, fine details are perceptible from the first listening and the tone is unique. But this speaker does not forget looks, it is bewitchingly beautiful as well. Audel explores the "hi-end world" presenting Seas technology and the reliable "Multipanel System" that secures the best performance one can get from a family of high quality audio transducers. Silk tweeter and a very versatile 6.5" woofer proclaims the birth of Audel Art Loudspeakers' Reference family.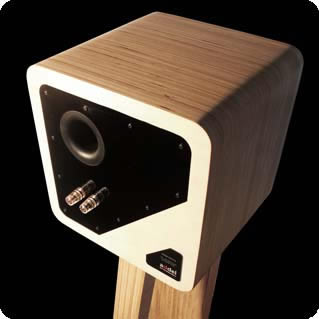 Audel Art Loudspeaker CG-618
Download PDF brochure by clicking here.
You will be amazed at the quality of performance of these speakers for their size. At about 18 litres and a relatively small footprint these speakers are ideal for a variety of applications including large bookshelves, fitouts for retail, high end listening rooms, lounge rooms, part of theatre rooms, as well as prestigious homes. They are an Italian designer look and are ideal for architects, specifiers, interior designers as well as audio enthusiasts and specialist audio system developers.
Specifications:
SYSTEM: 2 way vented box loudspeaker
CABINET: Multi-panel System – Structure laminated birch wood with black acrylic front insert
TWEETER: 27mm high definition
MID-WOOFER:165mm cone driver. Edge coated reed/paper pulp cone, together with perfectly matched moving parts gives a smooth, extended frequency response
FREQUENCY RESPONSE: 40 Hz – 25,000 Hz, tuning ports included
SENSITIVITY: 88dB
NOMINAL IMPEDANCE: 8 Ohm
POWER HANDLING: 30W – 150W
FRONT PANEL: Black acrylic (see images below)
DIMENSIONS: 304 x 304 x 304 mm (H x W x D) without stands
WEIGHT: 16.5kg per pair – net weight without stands
Included matching stand.
Dimensions:


Audel CG618 dimensions.
Related Items: