RetroSound R-57N 5x7 Inch Dual Voice Coil Speaker
The RetroSound R57N speaker meets the demand of today's high performance car radios and amplifiers while maintaining factory dimensions for original location mounting and are compatible with all standard audio sources. The "N" Series features ultra thin 1.77" (45mm) mounting profiles to fit in virtually any installation application. This speaker features neodymium magnet structures which are 5 times more powerful than standard speaker magnets, allowing for a substantial reduction in mounting depth and feature enhanced power handling and heat dissipation characteristics.
The Dual Voice Coil design allows you to connect 2 stereo channels from your radio to one speaker, providing you with maximum sound for a single speaker application! These types of speakers are generally used in "Classic" cars that only have one speaker location in the dash or the rear deck area, being able to connect 2 stereo channels to one speaker provides for a fuller, richer sound that a mono or single voice coil speaker cannot provide.
This 5x7" speaker does not have a grille and is designed and sized to fit in an OEM location, due to its ultra thin mounting profile, you can mount it places other speakers cannot fit.
Specifications:
Power Handling: 60 Watts RMS
Power handling: 100 Watts Maximum Power
2 x 4 Ohm
5" x 7" Dual Voice Coil full range speaker (detailed dimensions below)
Frequency Response: 65Hz - 21kHz
Sensitivity (SPL@1w/1m): 87dB
Flush mount 2-way dual Mylar tweeter assembly for crisp, clear highs
Stereo mix from your single speaker location
Dual Voice Coil system
Rigid pulp composite cone
Dip-cut magnet for extended pole piece excursion
Custom tooled low carbon steel basket
Santoprene surround for smooth, natural sound
1.77" (4.2cm) ultra thin mounting depth
Custom tooled low carbon steel black basket
Optional universal mounting bracket (35.5cm long); with screws and bolt
Check your dimensions below to ensure correct sizing for your vehicle.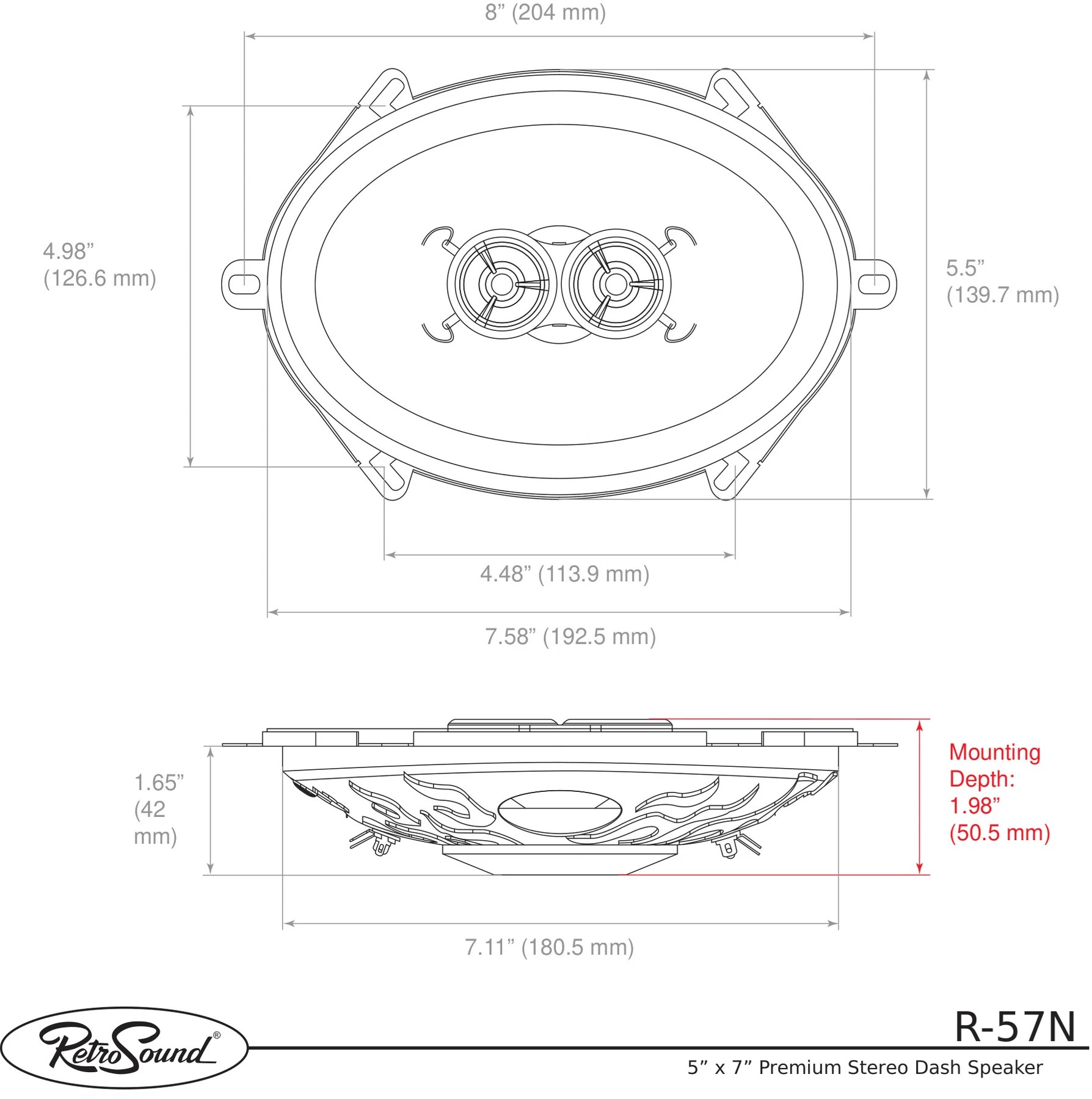 Dimensions 5x7" Retro Sound Speaker DVC R57-N (approx.)