Home Audio
Select a brand from the list below or scroll down to view all home audio products.
Soundlabs Group home audio is high quality and the range is selected for its unique qualities, performance, style and value for money. These are award winning products that are a welcome addition to homes that appreciate more than just sound. Our products have world-wide recognition due to their performance you will find some reviews under the listings of the products to back up this. They are also ideal for architects and interior designers to include in their projects or for lovers of fine music.
---
Audel Loudspeakers are made in Italy using laminated Birchwood, giving them incredible linearity with superbly controlled sound and without irregularities. With their top-quality drivers they provide absolute fidelity for the most discerning listeners. In the Hi-Fi trade there is a factor well known to lovers of great sound, the "Wife Acceptance Factor"; in other words you can't buy that great sounding speaker unless the wife approves! Audel have both the sound and the "Wife Acceptance Factor" - they are superbly designed with a fantastic Italian designer look to them. They will fit in with minimalist décor without compromising on sound quality.
The Reference Series comprises the CG509, CG618 bookshelf speakers and the CG Tower floor-standing loudspeaker.
Click for more...
---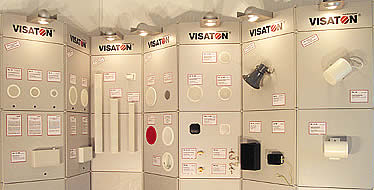 Visaton of Germany manufacture a huge range of speakers and parts, including ceiling and outdoor speakers which can be used around the home and entertainment areas. Easy installation and connection make them suitable for distributed audio systems, giving you sound virtually anywhere!
Please click here for more information.
---


img Stage Line are makers of high-grade amplifiers and DJ equipment which can be also used in the home environment. Solid build, reliability and excellent performance are what you expect for this range from the German brand Monacor.
Please click here for more information.
---