Mercedes-Benz Bluetooth Phone Interface MB-4

Our Price: AU $309.00 inc. GST each


AU $280.91 export price each



Product Code: Viseeo-MB4

This item is listed in the following categories:
Mercedes Accessories, Bluetooth Interface, Car Interfaces, Mercedes Benz, Bluetooth, Viseeo, Audio Gift Ideas, Bluetooth, Car Audio
Shipping Calculator: add to cart to first!
Now add Bluetooth Handsfree to Your Mercedes Benz! Order yours today - phone (02) 4627-8766
12 Months Warranty!
Note: The MB-4 Bluetooth upgrade kit now replaces the old MB-2, call us to upgrade to take advantages of the new features!
If you have a Bluetooth enabled mobile phone and a Mercedes Benz with the UHI connection (see photos below), the ViseeO MB4 adaptor will allow your mobile phone to work with the in-car system. This includes all the latest smart phones including Apple iPhones 4, iPhone 4S and iPhone 5 (all iPhones), Blackberry, HTC, Samsung Galaxy SII, Samsung S3, Nokia, and android phones to name a few and many others. In fact, virtually any Bluetooth phone will work!
Specifically designed for Mercedes Benz vehicles, the Viseeo MB-4 connects to the any Mercedes Benz from about 2003 onwards depending on the exact model (more common in 2005 models onwards). In some instances the car will have a cradle and the connector is under that, but if it has a curly cord you will likely need the MBU-1000. There is some overlap between the UHI connector and the older cradle with the curly cord.
With this system, you can use your Bluetooth enabled cell / mobile phones with ease and they will work with the in-car system. Buy a new Bluetooth phone and it will surely still work! Multiple phones can be paired to the system and even the phonebook is synchronised to the car for each phone (dependent on the phone). Steering wheel controls and / or the radio headunit can be used to make or receive calls and for cars with the Comand navigation system, the details of the calls can be viewed onscreen. The MB-4 is the replacement for the previous model MB-2.
Suitable Mercedes Benz Cars for the MB-4 Bluetooth Phone Interface: Mercedes Cars with UHI starting from 2003 (some models didn't have the UHI until after 2004 / 2005)!
Mercedes-Benz ViseeO MB-4 Bluetooth Phone interface connected to an iPhone.
Once installed, this ViseeO Bluetooth phone interface is very easy to use. In fact you virtually have to do nothing as it will connect automatically when you turn the car on and calls are routed via the module to the car's audio system. Simply press the answer button on the steering wheel or radio / navigation unit and the call will be answered. Do the same to turn the volume up or down. Hang up too! Caller ID is also possible on the screen. You can even leave your phone in you pocket, handbag or briefcase. Access the phone book on the car's display and select who you want to call, it is that easy! With police clamping down on mobile phone use in cars these days, this interface can save you money and make you journey a lot safer. (Some of these features are dependant on the exact system fitted to your Benz and the mobile itself.)
Some other systems on the market suffer from echo, a common complaint and very annoying, especially to the person on the other end of the phone call. This ViseeO system has a special feature which allows you to actually adjust the microphone level hence virtually cut the echo out completely! The sound quality is extremely good and one of the best obtainable with a hands-free car phone system. You can also pair up to four mobile phones; each can have its own phone book and those contacts are kept only for that phone, no-one else can access them without your phone.

Short Quick Time installation video (shows old model but principle is the same) - (no sound).
Double click image to restart.
Features:
Install it yourself! Alternatively contact our Sydney or Melbourne Offices for an appointment to get it installed. Phone (02) 4627 8766 Sydney or Melbourne (03) 9859 0388.
5V Phone or other device charging port (USB Port)
Phone book transfer for each paired cell / mobile phone, compatible with many Bluetooth cell / mobile phones Note: limited by the memory available in the car itself.)
Quick switch for paired phones
Full steering wheel function where fitted
Compatible with virtually all Bluetooth mobile phones
Comand keypad control - shortcuts to various functions are available via the radios numeric keypad where fitted
Pairs with all Bluetooth mobile / cell phones
Multiple phone memory - you can pair up to four mobile / cell phones
Dashboard display in instrument cluster display
Microphone level volume control - stops echo that can happen with some other systems
Voice dialing with compatible cell / mobile phones
Object Push Profile for sending contacts when sync is not possible
Manual with instructions is supplied
12 month replacement warranty
Unit gets power from car, so no need to have separate charger or batteries
Interested dealers? Please contact us!
An example of how you connect your phone to the USB charging port on the rear of the MB-4. Cable is provided.
UHI connection for Viseeo MB-4 - To expose the connector, remove the plastic cover.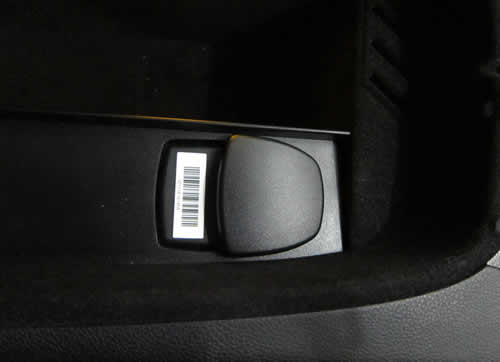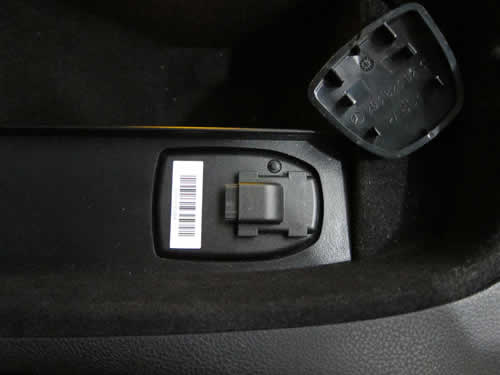 If you have a cradle remove it by pressing the button shown above and lift connection as shown in the images above this one.
Note if you have a curly cord on your cradle you need the Viseeo MBU-1000.
Related Items: