Adam Makowicz - From My Field

Our Price: AU $29.50 inc. GST each


AU $26.82 export price each



Product Code: Makowicz-From-My-Field

This item is listed in the following categories:
Jazz, CD, AM Records, Audio Gift Ideas
Shipping Calculator: add to cart to first!
Adam Makowicz - From My Field
Dancing Reflections
When I Fall in Love
Returning Thoughts
Had I Loved You
Prelude No. 25, Opus 45
Midnight Sun
Her Blue Ring
My One and Only Love
Gathering the Harvest from My Field
Nocturne No. 1, Opus 15
Where are You?
Prelude No. 2, Opus 28
Where is Love?
Love Me or Leave Me
Nocturne No.1, Opus 45
Mazurka No. 4, Opus 17
One of the great jazz pianists; in another era Adam Makowicz would be on a major label. But since major American record companies (excepting Verve and Blue Note) are no longer interested in recording jazz (completely missing the boat), Makowicz's latest CD is on his own AD Records label...
No matter, From My Field is a great one. The 37th CD of Adam Makowicz's career (under his name), From My Field is a set of unaccompanied piano solos, mixing together five of the pianist's originals with five Chopin pieces and six standards. In some spots, such as "Dancing Reflections", Makowicz shows what he learned from Art Tatum's music, not directly copying the master but displaying a technique on Tatum's level along with a few of the older pianist's ideas. Some other selections display his mastery of ballads, and how he can hold back his technique in service to a particular mood or melody. The classical pieces are turned into jazz while being respectful to Chopin's themes, and the standards sound brand new under Makowicz's fingers.
The performances on From My Field are both virtuosic and tasteful, thoughtful yet full of surprising moments that are laced with brilliance. Highly recommended.
Scott Yanow
Los Angeles Jazz Scene
April 2006
---
Adam Makowicz Biography
As a youngster learning classical piano in mid-fifties Poland, when jazz was barely tolerated by the regime, Adam Makowicz discovered jazz on Willis Conover's Voice of America broadcasts. It did not take long for jazz to discover Adam Makowicz: by 1977 he could be heard on 26 albums, had performed on three continents and been voted Number One Jazz Pianist of Europe by readers of the international periodical, Jazz Forum. In that year the legendary talent scout and producer John Hammond brought Makowicz to the mecca of jazz musicians, New York City. He arranged a ten-week engagement at the famous jazz club, The Cookery, in Greenwich Village, a solo album called Adam on the CBS - Columbia label, and a solo performance at Carnegie Hall on the same bill with jazz icons Earl "Fatha" Hines, George Shearing and Teddy Wilson. Appearing in such august company, says Adam, "I was scared to death!".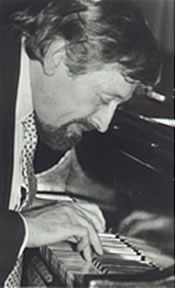 Adam Makowicz
Since then he has been a major attraction at jazz festivals all over the world; was guest soloist with such orchestras as the National Symphony of Washington, the London Royal Philharmonic Orchestra, the Moscow Symphony Orchestra and the Warsaw Philharmonic; and has expanded his discography to 50 albums, with 34 of them under his own name. These include CD's individually dedicated to such beloved American composers as Irving Berlin, George Gershwin, and in recent release, Duke Ellington. Now in addition to his brilliant improvisations on the popular classics, Makowicz occasionally performs his own compositions.
On one of his recent albums, Reflections on Chopin, Makowicz brings his extraordinary technical virtuosity to bear upon his own musical roots, presenting Chopin in a jazz idiom, as he did on the 150th anniversary of Chopin's death when invited to perform at the French Embassy in Washington, DC. It is the only disc of its kind in America, and underscores his interest in building bridges between classical music and jazz.
Since 1989, Adam Makowicz has returned to his homeland every year, popularising the music of American composers both in solo recitals and with the country's finest symphony orchestras. His performances in packed halls have included Gershwin's Piano Concerto in F, as well as a Rhapsody in Blue that features his own extended cadenza. Makowicz's many honours and awards have included the Officer's Cross of Merit of the republic of Poland.
Related Items: