Pulsar 12 Ultraflat Dual Coil Subwoofer

Our Price: AU $475.00 inc. GST each


AU $431.82 export price each



Product Code: M-132070-PULSAR12

This item is listed in the following categories:
Speakers, Subwoofers, Carpower, 12 Inch - 30cm, 12 Inch - 30cm
Shipping Calculator: add to cart to first!
PULSAR-12 
Number: 13.2070
Subwoofer Technology at its Best: High-tech HiFi subwoofer for home audio and car audio alike!
2x 200WRMS - 2x 2 Ohms

The PULSAR neodymium subwoofers of extra flat design for low and precise bass reproductions even in most difficult mounting situations.

Ultraflat NEODYMIUM bass speaker with a diameter of 30cm (12"), perfectly designed diecast basket (net. mounting depth: 90mm only at an outside diameter of 318mm!), coated, air-dried cellulose cone, high-tech drive system with absolutely perfect ventilation and cooling, thus of very high power capability. For subwoofers of this design, it is of suprisingly long excursion and allows bass reproductions of low fundamental resonance and of a high level stability in closed cabinets of the smallest size already (less than 15 litres!). Dual voice coil, sewed voice coil supply lines, Kapton and aluminium voice coil former - these high-tech speakers impress by their stability and the dynamic efficiency resulting from that! With regards to sound and level stability at peak performances, the large PULSAR speaker can honestly compete with woofers of conventional design.

CAR&HIFI 03/2008
Price/performance: very good
"Features an unparalleled flat design, provides an excellent bass reproduction and as far as low frequency response and level are concerned, it has improved even more. A real pleasure!"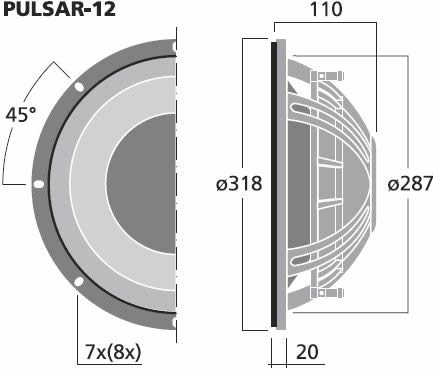 Specifications:
Impedance (Z): 2 x 2 Ohms
Resonant frequency (fs): 35Hz
Max. frequency range: f3-300Hz
Music power: 2 x 350WMAX
Power rating (P): 2 x 200WRMS
SPL (1W/1m): 86dB
Suspension compl. (Cms): 0.07mm/N
Moving mass (Mms): 275g
Mech. Q factor (Qms): 6.11
Electr. Q factor (Qes): 0.71
Total Q factor (Qts): 0.64
Equivalent volume (Vas): 25
DC resistance (Re): 2 x 1.9 /1 x 3.8 Ohms
Force factor (BxL): 15.7Tm
Voice coil induct. (Le): 2 x 0.7mH/1 x 2.8mH
Voice coil diameter Ø: 75mm
Voice coil former: Kapton/aluminium
Linear excursion (XMAX): ±10mm
Eff. cone area (Sd): 510cm2
Magnet type: neodymium
Weight: 2.95kg