Mundorf
---

Since 1986 Mundorf have been supplying audio components of the very highest quality. With precision craftsmanship, the finest materials and a constant search for new methods, they create components of the very highest class for loudspeaker boxes and audio electronics.
Products like the coils / inductors and the M-CAP range of capacitors are internationally recognised as guarantees for the finest sound and are used all over the world. Also available are high-grade crossover resistors, electrolytic capacitors, solder and more... See below for a brief description and direct links to the products.
---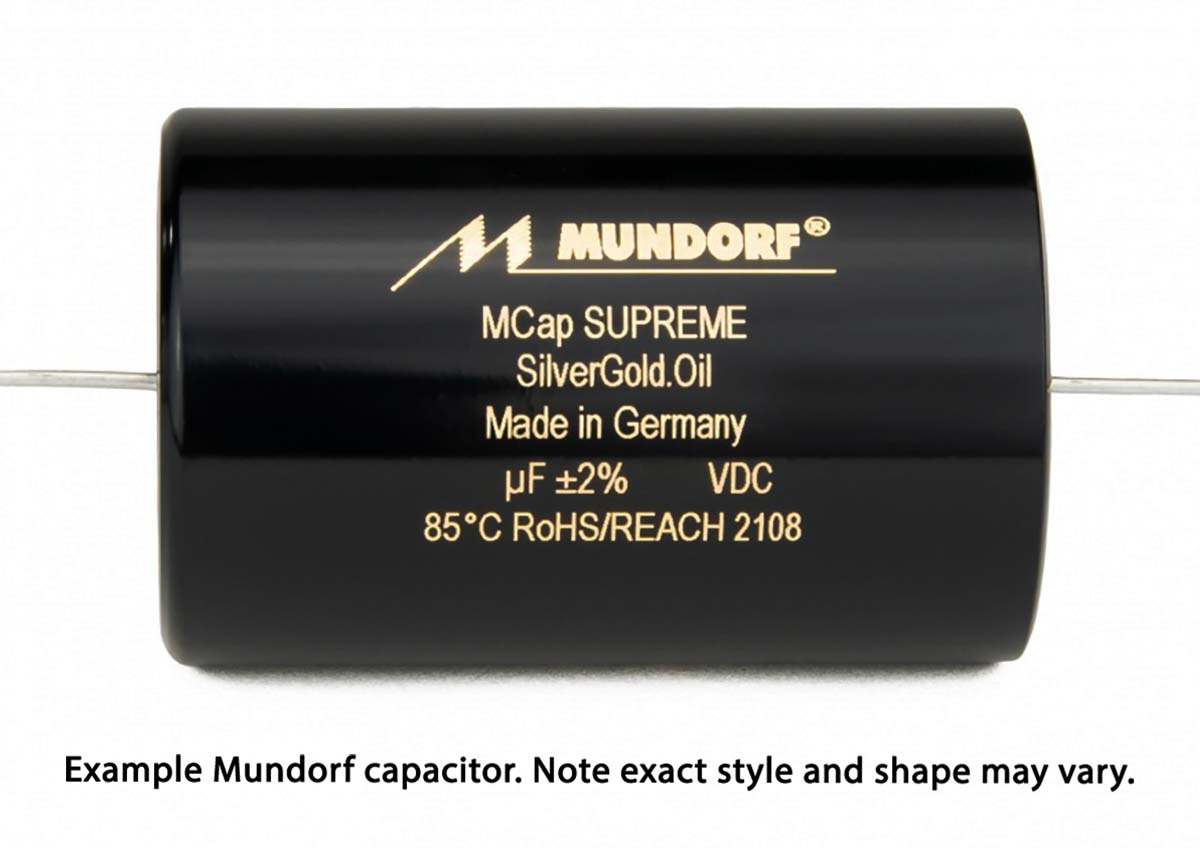 The MCap SUPREME silver gold oil capacitor is definitely the top-of-the line model of Mundorf's oil impregnated capacitors. In comparison with the Silver Oil version, it features a further extended lifetime. More importantly, sonically the Silver Gold Oil capacitor stands out due to its wonderful natural sound and exceptional micro-dynamics.
---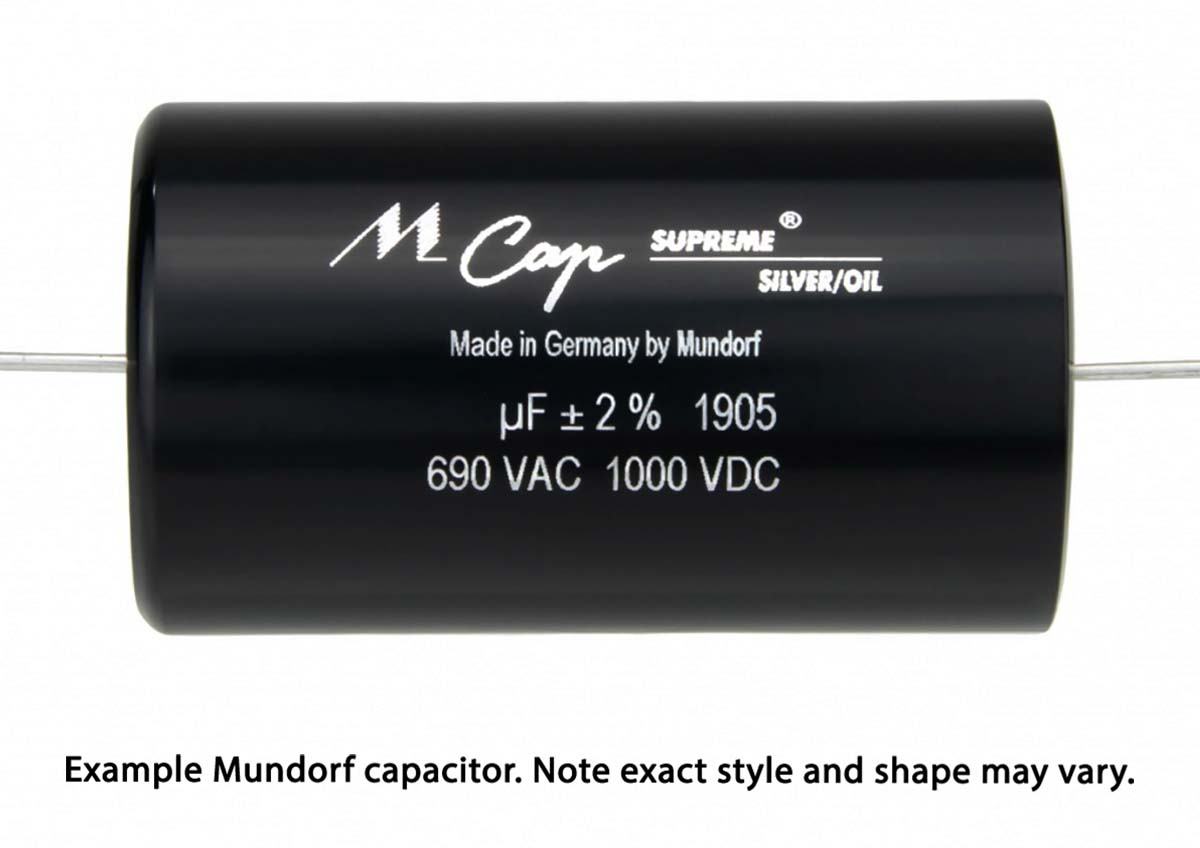 This product is an oil impregnated metallised polyprophylene dielectric capacitor, with the same series wiring as the M-Cap Supreme capacitors. Mundorf's advanced winding technology enables the production of induction-free capacitors for wonderfully spacious and detailed sound reproduction. Over many years these properties have made the M-Cap Supreme an international best-seller.
---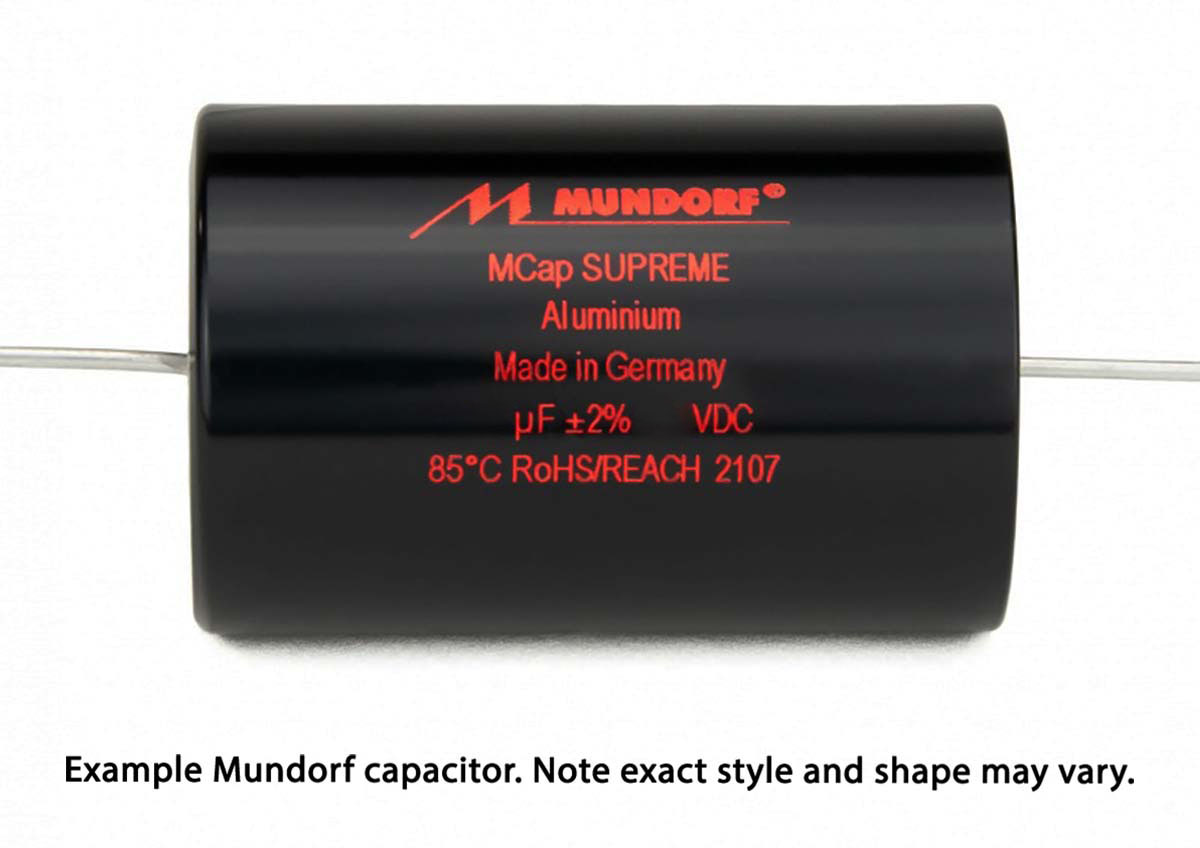 The M-Cap Supreme series are audiophile metallised polypropylene capacitors. In selection of the materials used, special attention is given to the sound properties and great care taken during the production guarantees constant high quality and minimum electrical and mechanical tolerances.
---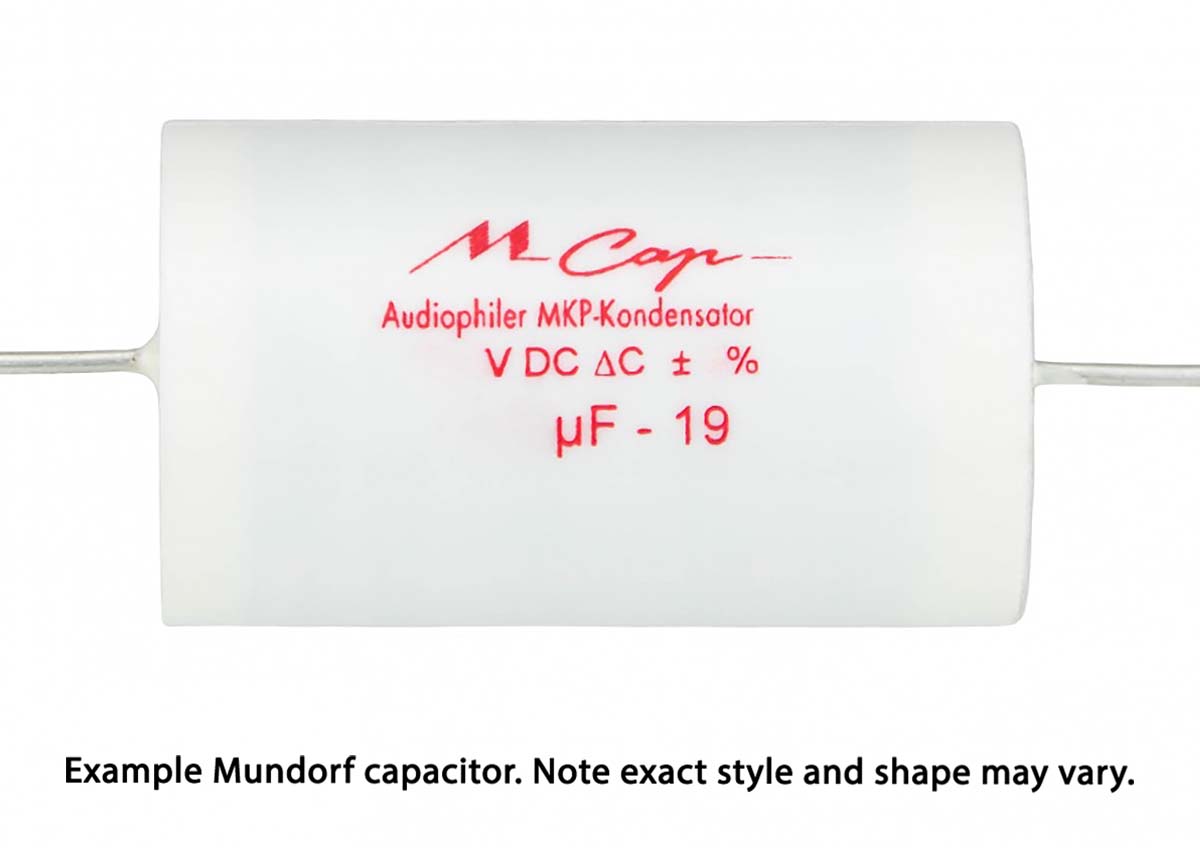 The M-Cap series are high-grade metallised polypropylene capacitors with excellent price - performance levels. In selection of the materials used, special attention is given to the sound properties and great care taken during the production guarantees constant high quality and minimum electrical and mechanical tolerances.
---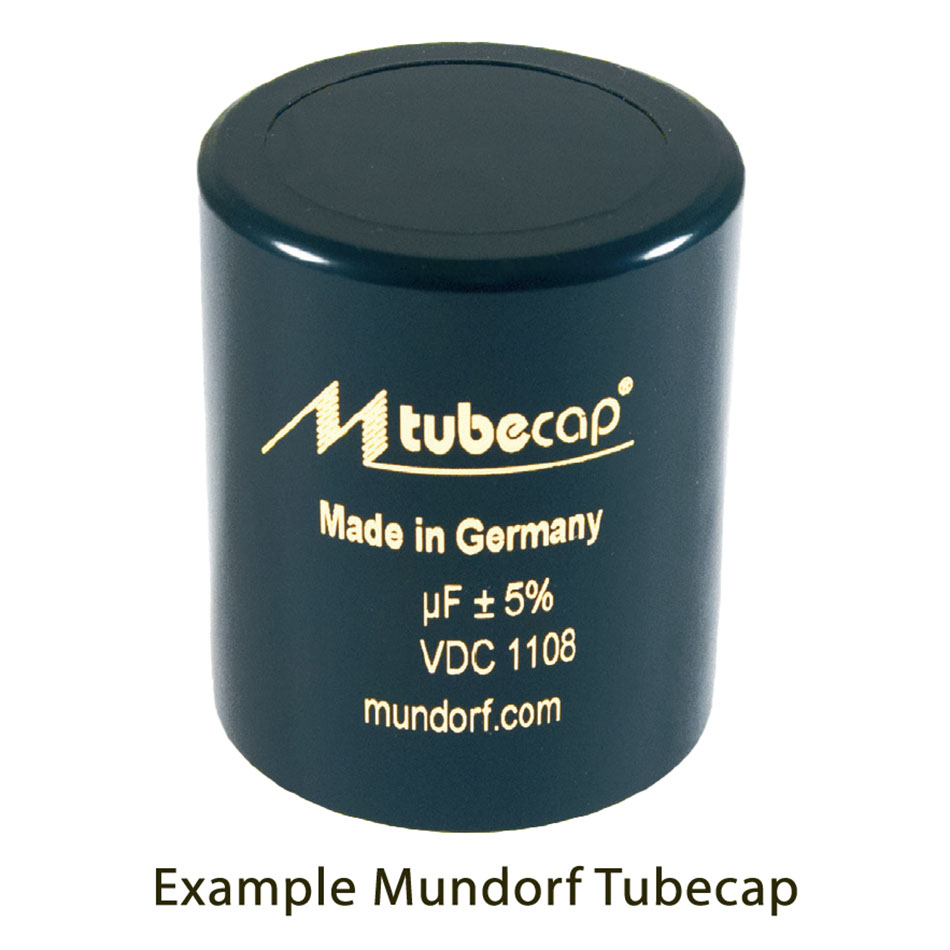 The TubeCap combines a high degree of dielectric strength and low residual inductance in a very compact form. It has been developed as a high-quality technical alternative to high-voltage electrolytic capacitors and is thus ideally suited to use in tube amplifiers plus of course many other applications.
---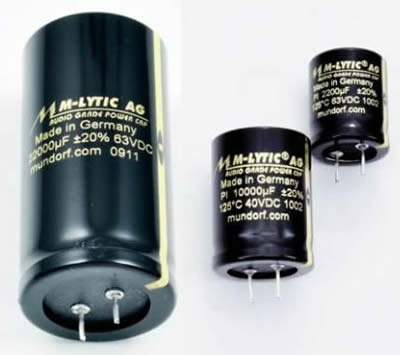 With the M-Lytic Audio Grade series Mundorf are extending their range of products to a series especially developed for applications within pre-amplifiers, source units or small power amplifiers. Throughout their development, importance was placed upon attaining low ESR and ESL values, as well as a low resulting detrimental effects on the sound..
---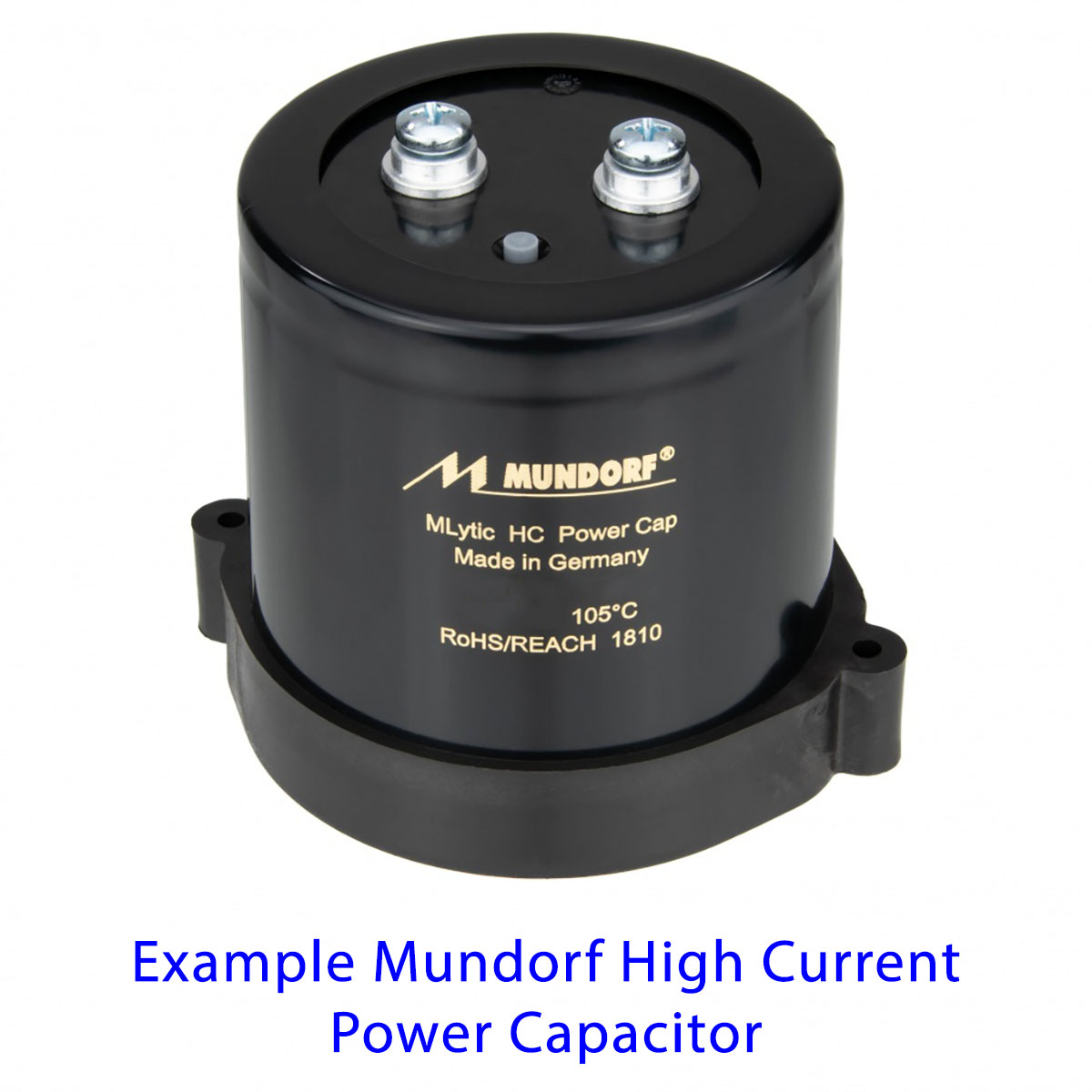 The Mundorf M-Lytic HC are true high-end electrolytic capacitors. A patented method for internal contacting enables the realisation of a very low ESR (equivalent series resistance) and the most marginal residual inductivity. Due to these attributes these capacitors can supply extreme peak currents. They do this very quickly and thus form the basis for a dynamic, precise bass as well as a lively and clear middle / high tone range. Even with extreme bass impulses the playback remains stable and clean, without any compression effects whatsoever.
---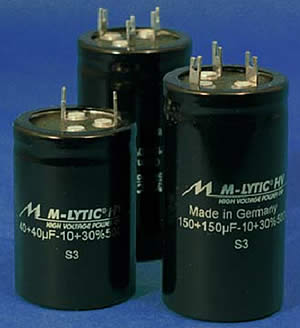 The Mundorf MLytic HV (High Voltage) electrolytic capacitors have been developed from the latest materials and use the most modern manufacturing techniques and are especially designed for the requirements of tube / valve amplifiers. Following many classic designs, these capacitors are offered as double capacity (dual) types. They are also very suitable for repairs and tuning / upgrading of existing amplifiers.
---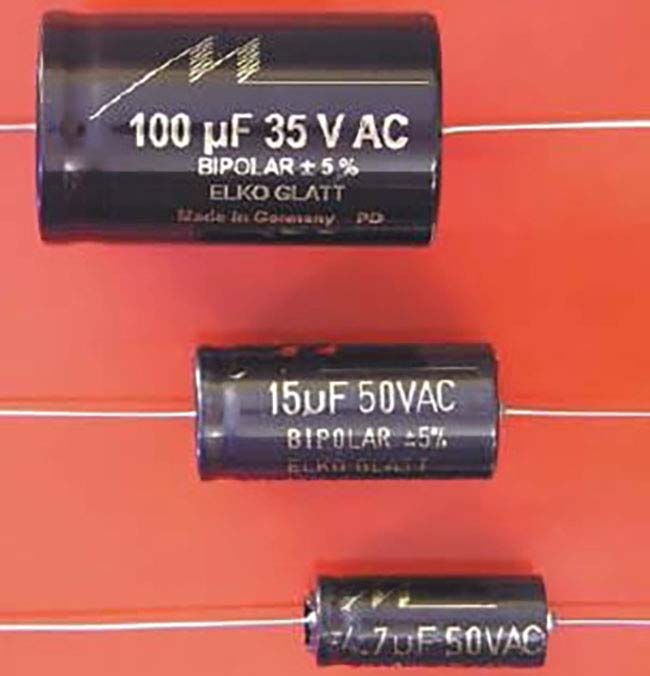 Mundorf Bipolar Electrolytic capacitors are perfect for where film capacitors would be too large or cost considerations come into account. They are also used for series resonant / Zobel circuits and impedance linearisation.
---
Air cored coils are, for physical reasons, unbeatable as far as accurate pulse reproduction and freedom from distortion are concerned. It is also possible in this way to create greater inductances with relatively low internal resistance. High grade copper 99.99% pure is used, precisely wound on polyamide fibreglass reinforced formers. Featuring close tolerances and high power handling, these coils are suitable for building high-performance crossovers or can make a worthy upgrade for existing crossovers.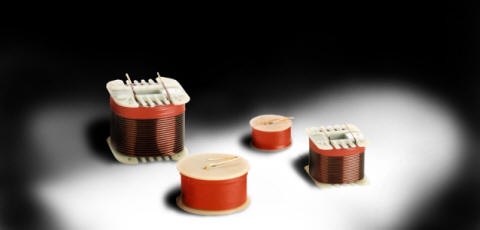 Mundorf Air Cored Coils
---
The outstanding audio characteristics of this material are further enhanced by the electrical benefits of the coil design: in contrast to conventional coils where the individual turns of the windings lie side by side, the windings in these units are directly on top of one another bringing them significantly closer to the theoretically "ideal" coil. Among other things, this is reflected in the coils' Q-factor which remains constant up to more than 100kHz. And since the unwanted capacitance of these coils is particularly low they are also extremely effective at blocking out very high frequencies. Mechanical robustness is another valuable feature of this design. The large contact area between the windings and the elastic polypropylene film insulator eliminates vibration in the individual windings very effectively.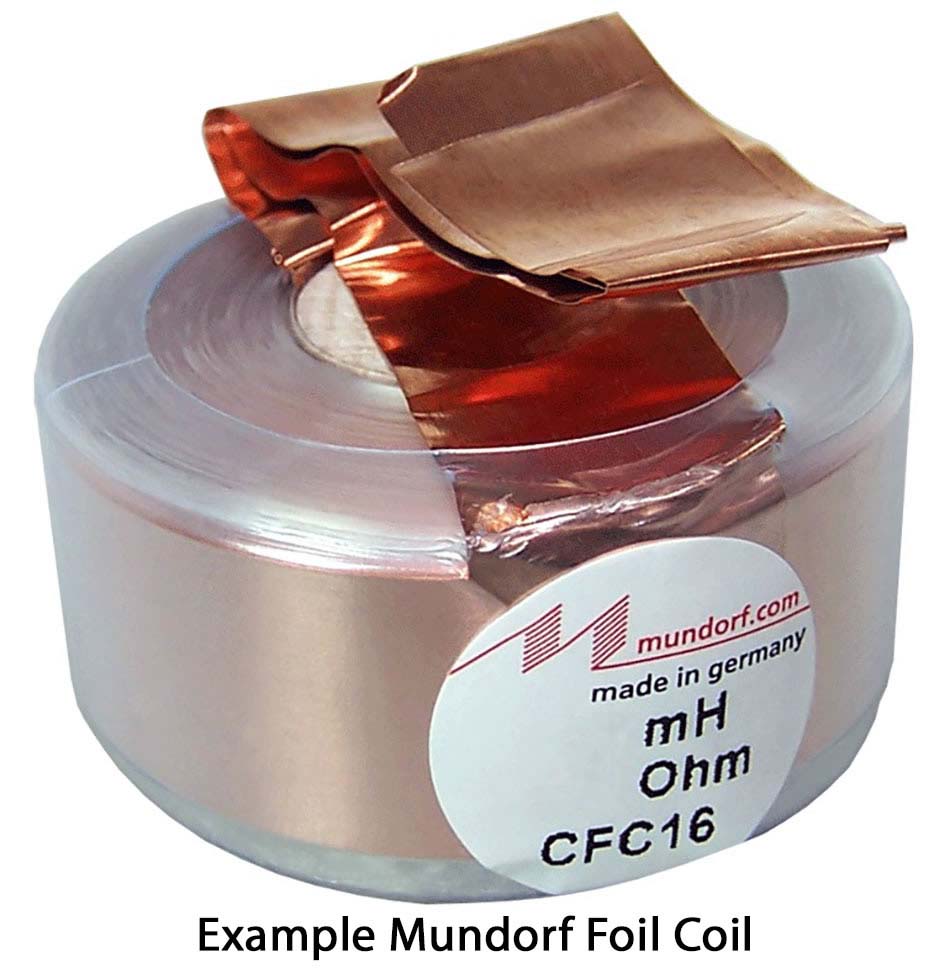 Mundorf Copper Foil Coils
---

The Mundorf M-Resist Supreme series is specifically designed for high-end loudspeaker and amplifiers applications. With their superior audio quality these 'acoustically no longer perceivable' resistors now match the premium quality standard which distinguishes Mundorf capacitors and conductors!
---

MOX Resistors (metal oxide layered resistors) are most suitable for use in high-end speaker crossovers. High power handling, high temperature resistance, low inductance and small tolerances. These resistors are well constructed, reliable and are suitable for many crossover designs, resulting in excellent performance. These metal oxide types are particularly suitable for higher-grade equipment or upgrades to existing crossovers.
---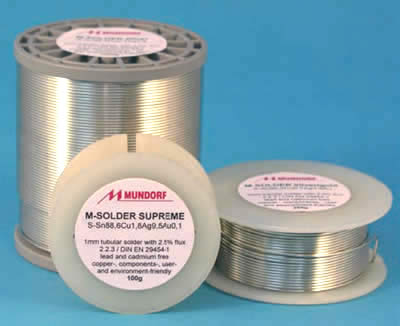 MSolder Solder is available in various compositions including standard, silver and silver gold Supreme solder. Silver / Gold boosts the advantages of silver solder by adding purest gold which also lowers the melting point and ensures the outstanding sound properties of components. Mundorf use the highest purity metals to form the solder alloy.
---
Click the product to view more information: